Emma Walshaw is the founder of First In Architecture and Detail Library, and has written a number of books aiming to facilitate a better understanding of construction and detailing. First In Architecture is a website providing resources and guides for architects and students.
Brick is one of the most common materials used in architecture. It's inexpensive, durable and versatile. Due to the wide range of styles available, the brick detail can be an important feature to pay attention to when designing a building. Here we will explore the different types of brick detailing and show you a multitude of examples of architectural projects that have been creative with their brick detailing.
Bricks are a modular building material and come in a huge range of colours, finishes, textures, sizes and types. From the material's longevity to their connection with many city's existing building fabric, it is no wonder that they remain a popular building material for modern construction. The following is an introductory guide to detailing bricks, looking at bonds, patterns and finishes, and setting out on your next brick-based project.
Brick Bonds
Designers and architects are experimenting once again with this material. They are pushing the boundaries with modern brick patterns and techniques, to provide cost effective and attractive exteriors to buildings. The following are just a few of the most common brick bonds.
Stretcher

Stretcher bond is one of the most common types of brick bonds. The courses are laid as stretchers, with the vertical joints offset by half a brick on each layer. This type of bond is well known, and is therefore easy to build, as well as cost effective.
Header Stretcher Bond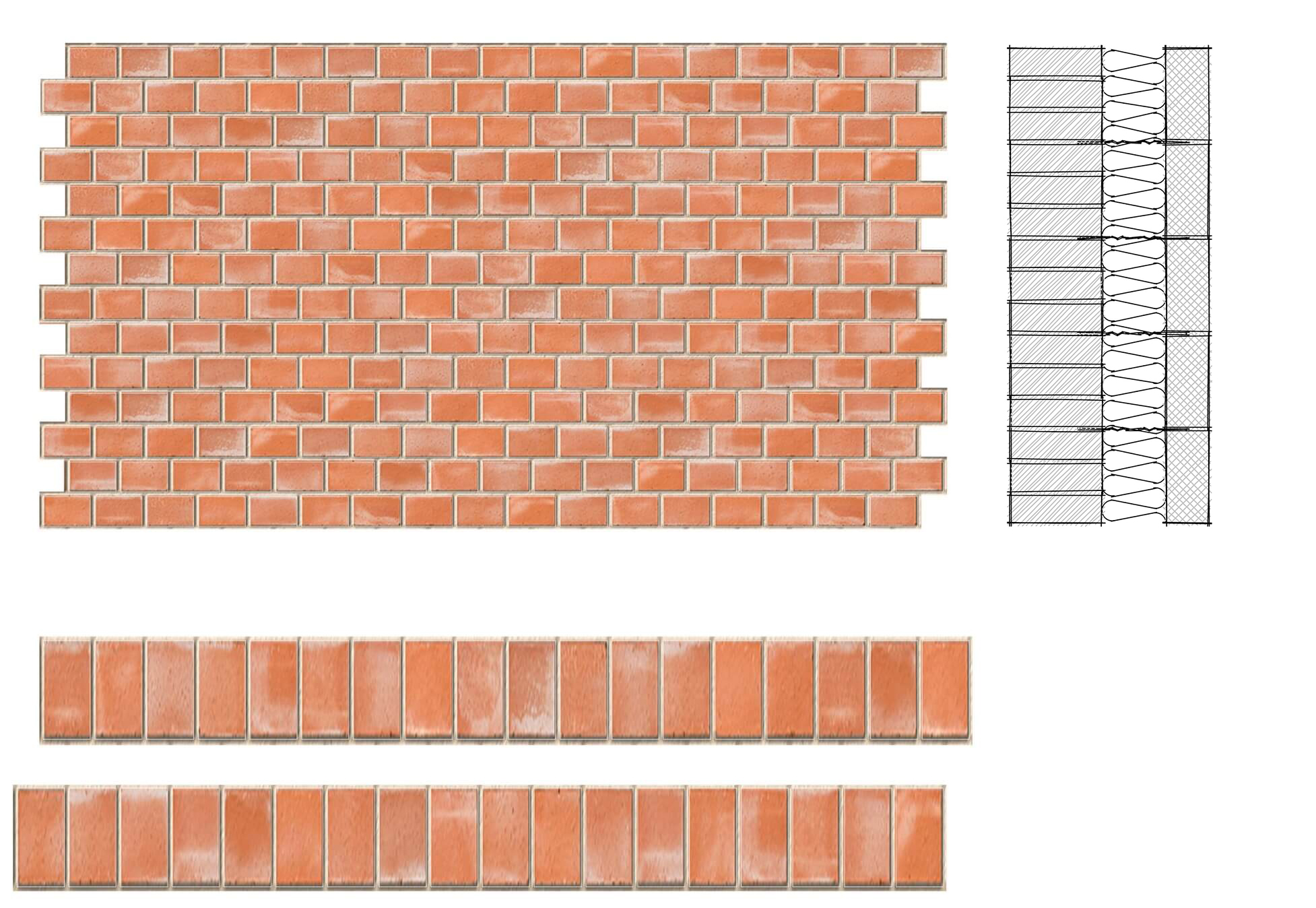 The header bond is a more expensive brick bond as it uses many more bricks than the standard stretcher bond. It can create interesting patterns when using different brick colours.
Flemish Bond

Flemish brick bond is a very common brick bond, especially within historic residential buildings in London. It is sometimes used in modern buildings to connect it with these historic surroundings.
English Bond

This brick bond is typically seen within historic buildings and is quite similar to the Flemish although less common. It is considered to be a strong bond and is often used for civil engineering projects like bridges and embankments.
Herringbone

This is a more unusual brick bond for buildings, as it is not possible to set out windows to this more complex bond. If applied, more consideration will be required for the detailing around windows, doors and the tops of the walls.
Brick Patterns
Once you have chosen your brick bond, you can play around with the patterns and depth. Below are some examples of how to do this, including protruding hit and miss brickwork, corbelling and protruding bricks. As well as all the examples shown, twisting brickwork, brick slips or using special shaped bricks can also add depth to a façade.
Protruding Brickwork


Protruding brickwork is a low cost way of adding depth to a façade. With either the same or different colored bricks, a pattern can be highlighted by pulling it either further out or into the façade. This adds interesting texture and shadows to an otherwise flat façade.
Corbelling

Corbelling is traditionally seen in brick parapets to define the top of a wall and add further depth. Traditional structural corbelling can still be achieved with the simple rules that:
That the total overhang cannot exceed 1/3 of the wall depth (total wall depth ÷ 3, T/3).
Each corbel much not exceed 25.4cm (1 inch).
However, more complicated corbelling can be achieved using precast brick panels, brick slips and other structural solutions.
Hit and Miss Brickwork


Hit and miss brickwork has traditionally been used in garden walls to allow light and air to permeate. More modern examples can be seen in front of glazing to create a screen effect. It is key to speak to the manufacture when using this type of brickwork as it is more exposed to the elements and therefore not all bricks will be suitable. High water resistant solid brickwork is always recommended as bricks with frogs and holes will allow too much water ingress.
Brick Mortar Joints

The mortar joint in brickwork is a key part of a brickwork wall, helping to join the brickwork together structurally and keeping the rain and elements out of the interior. There are many ways of specifying the mortar joint for your brickwork. The color, for example, can make a huge difference on the appearance of the wall. The joint profile also changes how the brickwork creates a shadow and depth.
Below are some of the most common types of mortar joint:
Bucket Handle Joint
This type of joint is the most commonly used in which the face of the joint is compressed and provides the most durable profile.
Flush Joint
This is the simplest but potentially least durable. As this joint has not been compressed by a finishing tool it should not be used in areas of severe exposure. However, a skilled bricklayer will be able to achieve this finish with a compressed joint.
Weather Struck Joint
This joint is recessed at the top slightly sloping to allow for the dispersion of rainwater. It has excellent strength and water resistance. 'Perpends' or the vertical joint should also have this profile.
Recessed Joint
The maximum depth of the recess should not exceed 4mm and should be ironed to compress the joint's surface. When using this joint profile consideration should be given to the exposure of the wall and brick type.
Brick Finishes
There are a huge range of brick finishes including, glazed, water-struck, handmade, rusticated, drag-faced, rolled, sand-faced and smooth. Whilst they may seem purely aesthetic, different finishes can be great for different environments. For example, glazed bricks are great at reflecting light and are commonly used in light wells or for special detailing around entrances. Rusticated and sand-faced bricks are a great way of adding texture to mass produced bricks, making them seem more like handmade ones and engineered smooth bricks are recommended in lower areas of walls where structural brickwork is required as they are stronger, more resistant to moisture and loading.
Conclusion
Brick specification and detailing is an important part of the design process. There are many types of bricks, joints and styles that can give a building a unique character. Whether you are looking for inspiration to add some flair to your new build scheme or considering a unique renovation project, some of the above ideas will help get you started.
Emma Walshaw is the founder of First In Architecture and Detail Library, and has written a number of books aiming to facilitate a better understanding of construction and detailing. First In Architecture is a website providing resources and guides for architects and students.
---
Should your office be considered among the world's best architecture firms? Find out more about Architizer's 10th Annual A+Awards program, opening this fall: Sign up to receive key program updates and deadline reminders.
Top image: Ngamwongwan House by Junsekino Architecture & Design, Bangkok, Thailand
Read more articles by Emma