Architects, interior designers, rendering artists, landscape architects, engineers and photographers and are invited to submit their firm for the inaugural A+Firm Awards, celebrating the talented teams behind the world's best architecture. Start your entry today.
The green roof has gained momentum as an environmentally conscious and people-pleasing architectural feature — one that will reach its full height in the coming years. Taking Le Corbusier's call for rooftop gardens to the extreme, the following A+Awards winners and nominees fully merge buildings with landscape, offering outdoor recreational facilities that envelop the interior space.
The ecosystems of these rooftop environments require innovative engineering solutions for lighting, drainage, and load-bearing structure. From ski slopes to networks of pedestrian pathways, these rooftop parks actively encourage urban residents to get outdoors, contributing to their communities while mitigating urban density's adverse effects.


Quzhou Sports Campus: MAD Architects, Quzhou, China
2020 A+Awards Jury Vote Winner in Sport & Recreation–Unbuilt Sports & Recreation
Construction is underway on the "vanishing" Sports Campus in Quzhou, which, when completed, will be the world's largest earth-covered building. The verdant green slopes of the new complex will serve as roof, walls, and public space, making it impossible to distinguish where the terrain becomes façade and vice-versa. The activity within the sunken sports facilities extends into the public realm through a network of sinuous pedestrian trails and bike paths that echo the curvilinear profile of the complex.


BaseCamp Lyngby: Lars Gitz Architects, Lyngby, Denmark
2020 A+Awards Nominee in the Residential-Unbuilt – Multi-Unit Housing (S<10 Floors)
Nestled amongst the tree-covered landscape of UNESCO-preserved Dhyrehaven park in Denmark, Lars Gitz Architects leverages an undulating rooftop landscape in its innovative approach to residential design. The serpentine superstructure integrates the rooftop garden and courtyard typologies within an intergenerational complex that houses students, PhDs, and senior citizens. In addition to promoting a greater appreciation of the environment and chance encounters amongst the various demographics who reside there, the green roof envisions a more sustainable architecture, serving as a rainwater buffer, an air purifier, and regulating indoor temperature.


CopenHill / Amager Bakke Ressourcecenter / Amagerforbraedingen Waste-to-Energy Plant: BIG – Bjarke Ingels Group, Copenhagen, Denmark
2020 A+Awards Popular Choice Winner in Commercial-Factories & Warehouses
The long-anticipated CopenHill power plant and urban recreation center officially opened to great fanfare last month. Located in Copenhagen's industrial district, the rooftop of this waste-to-energy plant will introduce a ski slope, a hiking trail, and a climbing wall to the area, which has been a long time mecca for extreme sports enthusiasts seeking an alternative space for wakeboarding and go-cart racing. Introducing a green roof ecosystem with diverse flora, the Bjarke Ingels Group expands the idea of what a waste plant can do for its community, asserting that environmental and social sustainability go hand-in-hand.


Courtyard Kindergarten: MAD Architects, Beijing, China
2020 A+Awards Popular Vote Winner in Institutional-Kindergartens
Set apart from everyday city life and immersed as it is in the historical setting, the brightly-hued, roof of MAD Architect's Courtyard Kindergarten serves an otherworldly landscape where preschoolers can safely play and explore. The new multipurpose building houses learning facilities that wrap around traditional siheyuan courtyards and pagodas, dating to 1725. The flowing terrain of its roof is made of rubbery and breathable plastic, colored in a palette of vibrant vermillion reds and ochre yellows that evoke Beijing's Forbidden City.


Yulong Snow Mountain Visitor Center: Studio 21 @CCDI Group, Lijiang, China
2020 A+Awards Nominee in Transportation–Unbuilt Transportation
Conjuring the image of a falling snowflake, five outstretched protrusions reach from Lijiang's new tourist center's central atrium. Smooth wooden ramps rise from the ground and extend to the rooftops, inviting visitors to contemplate the awe-inspiring mountainous landscape around them and building anticipation as they wait for the light rail to transport them to the glacial terrain. The transfer station not only connects Lijiang old town and to the Yulong Snow Mountain, but also serves as a preparatory space where visitors feel the scale and enormity of the wintry landscape around them, which is disappearing at an alarming rate.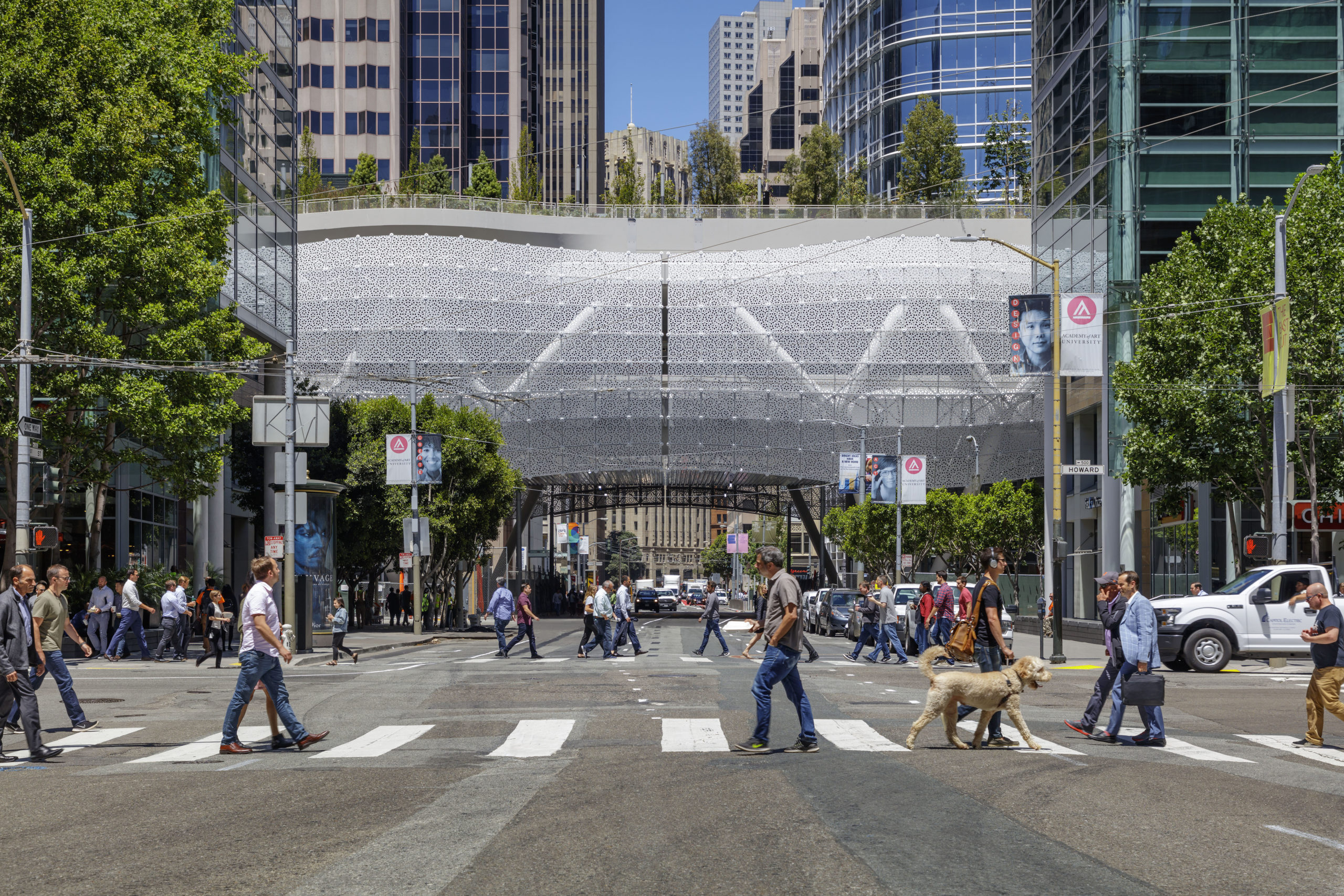 Salesforce Transit Center Park: PWP Landscape Architecture; Pelli Clarke Pelli Architects, San Francisco, California
2020 A+Awards Nominee in Transportation–Transportation Infrastructure
The new Salesforce Transit Center Park in San Francisco's transforming East Cut neighborhood has already become a central public open space for the city's denizens. The 5.4-acre rooftop park is a symbol of sustainability with a series of biodiverse botanical gardens, whose large trees aim to cut summer heat and curb carbon emissions from vehicles, in addition to detaining storm water. It is easy to forget that the park crowns the nexus of various regional, state, and national transit systems; yet, the multifunctional green roof is more than a haven for commuters. It provides welcome respite from urban life and serves as a leisure area for locals as well.


CIFI Donut Kindergarten: THDL (Tianhua Design Lab), Anhui, China
2020 A+Awards Nominee in Institutional-Kindergartens
As the playful pastry reference in its name suggests, the CIFI Donut Kindergarten utilizes multi-level, circuitous terraces to integrate three-stories of educational space with the creative areas for children to play. The project's energy emulates from the centrifugal ramp that spirals around a tree in the central courtyard. Elevated above the ground level, the dynamic green roof is an architectural landscape that maximizes sunlight time and fresh air exposure for young students, who are encouraged to frolic as they move between classrooms on the hovering pathways.


Musée Atelier Audemars-Piguet, BIG – Bjarke Ingels Group, Le Brassus, Le Chenit, Switzerland
2020 A+Awards Popular Choice Winner in Cultural-Museum
Two curving spirals define the Musée Atelier Audemars-Piguet, a modern, organic form that boldly updates the original workshop of the local watch-makers c 1875. The pavilion's twisted glass walls support a green roof, which pragmatically absorbs water and regulates the buildings' temperature. The helical form compliments the surrounding landscape and adapts to the natural gradients of the Swiss topography. Simultaneously, the coiled green slopes evoke the internal mechanics that propel a timepieces' turning hands, abstractly hinting at the objects displayed within its glass walls.


Natural Wisdom, Architectural Creation & Research Studio, Tus-Design Group, Suzhou, China
2020 A+Awards Nominee in Architecture +Sustainability
Natural Wisdom denotes both the name of this project and the driving logic behind its plan — preserving of the ecology of the Dongtaihu Lake region was paramount to the designers. To make their intervention as discreet as possible, the architectural team chose to sink the warehouse into the ground, integrating it into the environment while remaining mindful of the floodplain. Though the warehouse is separated from the main leisure areas of the lakeside, it is concealed in such a way that the site appears as if it were an extension of the park area that surrounds it.
Architects: Showcase your next project through Architizer and sign up for our inspirational newsletter