The winners of this year's A+Product Awards have been announced. Stay tuned for the year's edition of the A+Product Awards ebook in the coming months.
Classy cabinetry can make any home look like a million bucks. If a kitchen sports some stunning storage doors, then there's no telling what other intricate interior beauties can be found throughout the house. Because cabinets are a key factor in defining a kitchen's character, it's vital to choose the right style for your space.
Cabinetry can seem relatively superficial in comparison to the structural components of a building, but because kitchen cabinets take up well over a quarter of a kitchen remodel budget, it is imperative that architects and interior designers do their research before specifying this element. Arguably the most important part of picking out cabinetry — even more than style and functionality — is choosing the right material.
Cabinetry material choices; via Home Style Choices
Many architects, interior designers and homeowners aim for solid wood as one of the main materials in a residence. But we already know that solid wood expands and contracts, so it is not always the best solution for kitchen cabinetry, flooring applications or countertops. In most cases, engineered wood products are used instead because they're just as reliable and a lot cheaper. The most widely used kinds for cabinet boxes are constructed from medium density fiberboard (MDF), plywood, particleboard with melamine and sometimes stainless steel.
Setting aside the aesthetic qualities of the cabinet door, it also pays to give close attention to the interior construction of your cabinetry. Here's what you need to know about each material option:
Teal-painted MDF cabinets; via HGTV
Medium Density Fiberboard
MDF is a high-grade composite material made from recycled wood fibers and resin. It's CNC-milled under high pressure, often in one-piece frames with the center cut out for the recessed panel. The dense and heavy product is nearly synonymous with IKEA cabinetry, as, over the years, the Scandinavian company has cornered the world supply for their various kitchen collections. MDF attracts consumers because of its resistance to cracking and peeling — meaning it's super easy to paint over. Plus, MDF is smoother than plywood.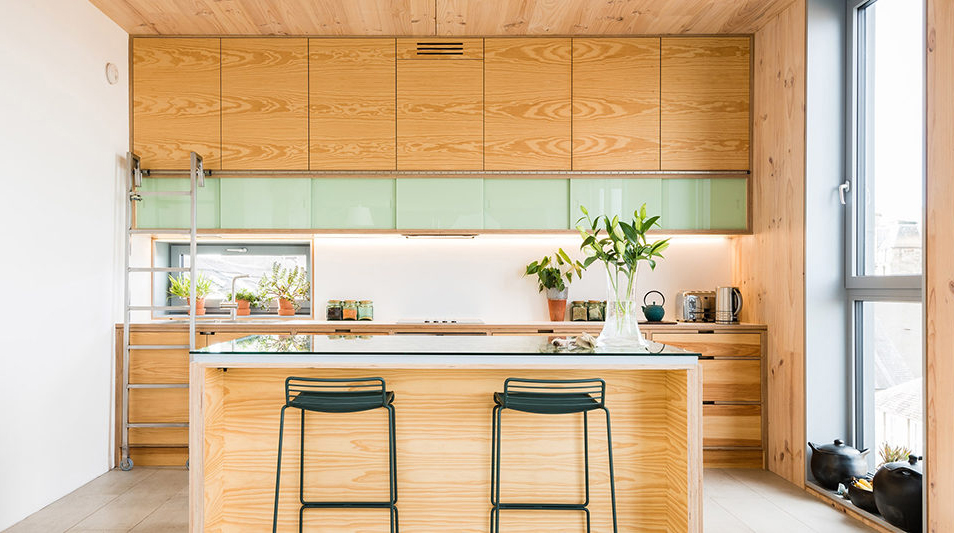 Image via KBR
Plywood
Many manufacturers gravitate toward producing plywood cabinets not only because it's a relatively low-cost material, but also because it's said to have a higher resistance to moisture and greater stability than MDF. Each board that makes up plywood cabinetry is layered like a sandwich, with thin wood piles glued on top of one another. An exposed plastic laminate, wood veneer or thermofoil coats the outside for added protection.
Particleboard; via Boston Building Resources
Particleboard
Particleboard cabinets are maybe the least conventional cabinet-construction method. To create particleboard, wood chips and particles are combined with an adhesive, which is then fused together into the panels. This mixture is the least firm of all the options because it's basically shards of wood ground up into little pieces, and the only thing truly holding it together is the glue.
Via Steel Kitchen
Stainless Steel
While stainless steel gives a kitchen a coveted contemporary feel, it's somehow not as desirable as wood. Stainless steel is more commonly used in professional kitchens, but it's hard to clean off fingerprints and scratches. Stainless steel doesn't expand and contract like wood, making it a nice option for moisture-rich places.
Cabinets usually come ready to assemble, but semi-custom options are great if you want an added touch of control over the final product. One aspect of cabinetry that people often overlook are the drawers. Usually, these are made up of the same material as the cabinet box, but on high-quality cabinets, they might be made of solid wood so as to withstand abuse from future overuse. The drawer fronts will likely feature solid wood or MDF.
Typical plywood construction for wall-mounted cabinetry (top) and base cabinetry (bottom); via Ideal Cabinetry
Despite the importance of specifying the right material for the structural body of the cabinets, the top priority of architects and their clients is often the cabinet door. It is, after all, the most visible and character-defining component of kitchen cabinetry, and there are endless options for specifying it. If your client wants the doors painted with a pop of pink or an elegant white, MDF is the way to go. Note, however, that MDF doors are grainless; so they can't be stained. If the classic natural look fits better with the overall design of the kitchen, choose solid wood doors constructed in a framed or slab format. Just be aware of all the wood swatch options you'll have to filter through.
Wood finish options; via iStock/elenabs
It takes a lot of knowledge to carefully consider a well-crafted cabinet. Because cabinets take up the majority of space in a kitchen and the style and color can make them the single unifying design element in the room, it's key that architects, designers and homeowners know what they want when envisioning a completed kitchen. If you're interested in learning more about bespoke kitchen design such as multifunctional cabinetry, the art of hiding hardware or making a minimalist space, check out this article on Arhitektura d.o.o. and their unique take on cabinet-making.
The winners of this year's A+Product Awards have been announced. Stay tuned for the year's edition of the A+Product Awards ebook in the coming months.
Read more articles by Sydney