Architects: Showcase your next project through Architizer and sign up for our inspirational newsletter.
"When I was a kid, I grew up amongst industry: mining, logging, farming," recalled architect Tom Kundig, principle of the Seattle-based firm Olson Kundig, "Naturally, with that there was a lot of machinery, a lot of practically-designed — and in its way, beautiful — machinery … I realized there was something similar about buildings that I found fascinating: that buildings could be changed by people using them." In the five decades since this revelation, Kundig and his partner, Jim Olson, have become experts at crafting low-tech smart homes whose façades are capable of transforming, not with the tap of a screen, but with the turn of a crank or the pull of a lever.
Although seemingly unsophisticated, their façades utilize intricate systems of hinges, pulleys and bearings, devised by Phil Turner, the firm's in-house "gizmologist." These hand-operated elements bring tactile experience back to architecture, challenging people to rethink their relationship with the environment around them. As you begin detailing your next project, let the spectacular kinetic façades of Olson Kundig get your wheels turning, and continue reading below to see them in action: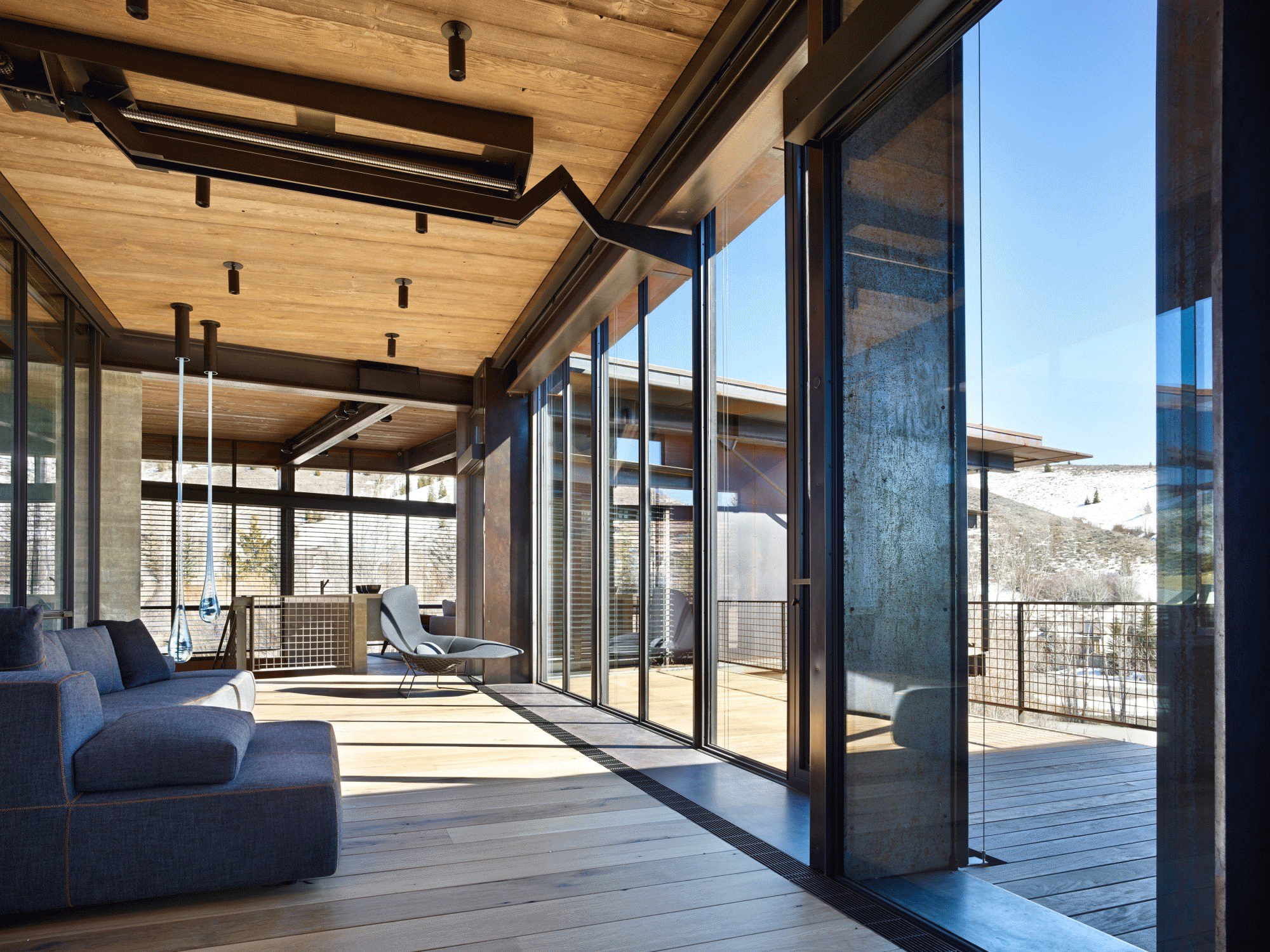 Bigwood Residence by Olson Kundig, Sun Valley, Idaho, United States
Kinetic façades by Dynamic Architectural and Turner Exhibits
The Bigwood Residence, located at the base of the Smoky Mountains in Idaho, was designed to frame panoramic views of the landscape while bringing occupants closer to nature. As the architects describe, "the outdoors is welcomed in at nearly every turn, with expansive windows and wide-swinging doors that celebrate the interior/exterior connection."
The house comprises two wings of steel and glass which cantilever dramatically from a concrete base, embedded in the hillside. The wings converge at a glass bridge whose entire façade can be lifted like a garage door, blurring the boundary between inside and outside. The movement of this 23-foot-wide glass wall is made possible by a crank which causes a pivoting arm to travel along an 8-foot-long threaded rod. The weight of the glass is counterbalanced by an enormous steel tube, elevated high above the roof for all to see.

Sawmill by Olson Kundig, Tehachapi, Calif., United States
Kinetic façades by Turner Exhibits
Sawmill is a family retreat positioned high in the mountains of California. Named in recognition of the historical exploitation of the landscape, this net-zero home operates entirely off the grid, relying on passive design strategies and renewable energy to minimize its environmental footprint.
The architecture, characterized by a simple palette of concrete and salvaged steel, is a direct response to the desert climate. The perimeter block walls absorb heat during the day and radiating it throughout the interior on cold winter nights. At the center, a corrugated metal canopy protects the largely glazed southern façade from direct sunlight. Thanks to the gearbox of a repurposed irrigation pump, this 26-foot-long wall of glass can slide open, exposing the main living space to the prevailing canyon breeze.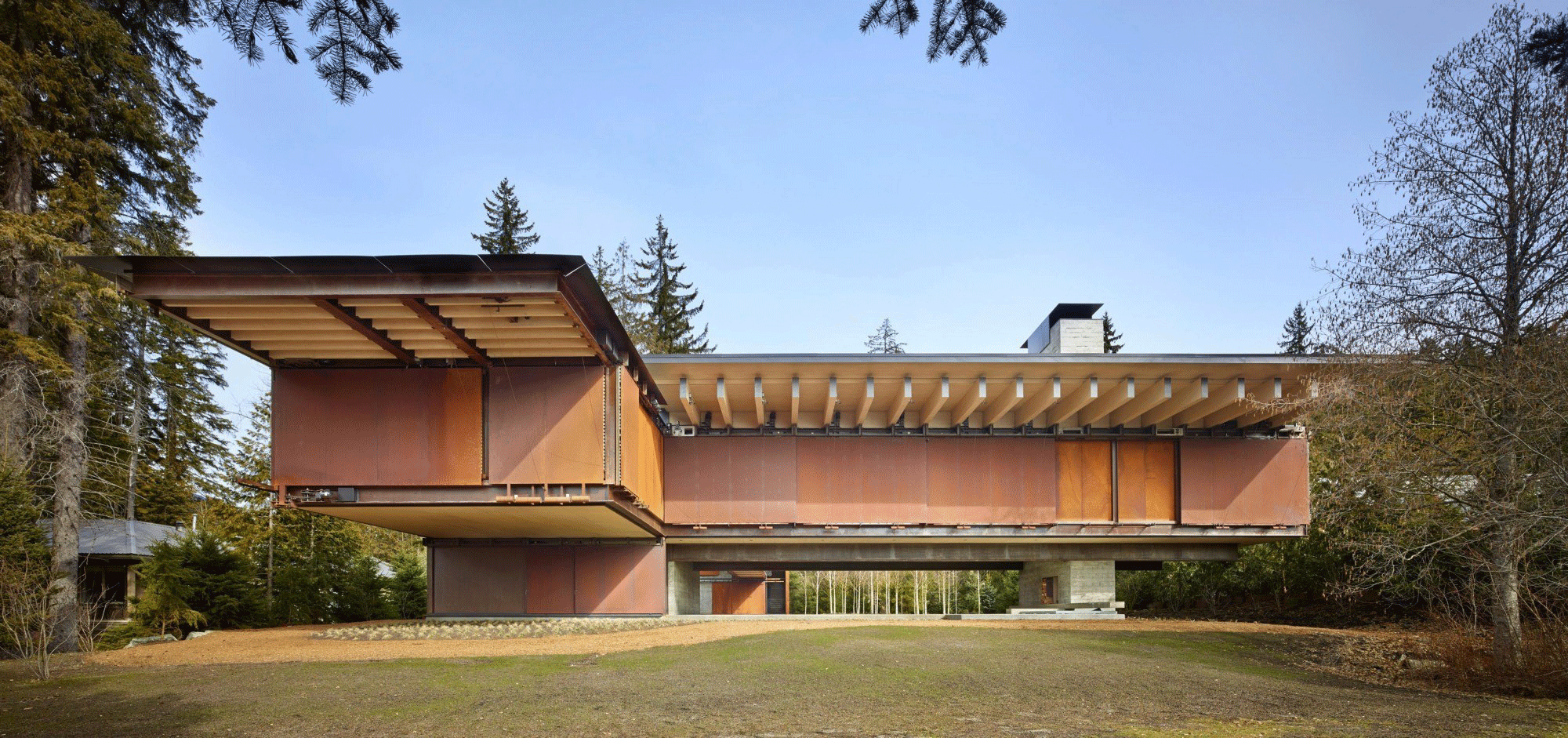 Whistler Ski House by Olson Kundig, Whistler, Canada
Kinetic façades by Turner Exhibits
The Whistler Ski House is a vacation home in western Canada, situated between the shore of a lake and the edge of a forest. In order to preserve existing trees and minimize soil disturbance, Olson Kundig split the home into two compact volumes and connected them with an 80-foot-long glass bridge, which floats above the terrain.
The transparency of the glass façade is mitigated by two kinetic elements — one semi-transparent and the other opaque — which enable occupants to control their level of privacy and comfort. Louvered screens, built with locally sourced Douglas fir, provide shade in the summer and shield eyes from snow glare in the winter. In front of the screens are gliding steel shutters which offer additional privacy at night and security when the home is unoccupied.

Studhorse by Olson Kundig, Winthrop, Wash., United States
Kinetic façades by Fleetwood and Turner Exhibits
Studhorse is a contemporary but rustic home with façades clad in Corten steel and interiors finished in reclaimed barn wood. Inspired by the western "tradition of circling wagons," the home is divided into four structures — containing the main living spaces, sleep quarters, guest accommodations and a sauna — assembled around a central courtyard and swimming pool.
The façades have been designed to activate the courtyard, encouraging outdoor living and family gatherings. Each structure features full-height sliding glass walls, which allow their interiors to spill out onto the patio. On one side of the courtyard, a pivoting wall equipped with a flat screen TV transforms the family room into a spacious open-air theater. On the other, hydraulic pistons enable the kitchen to be opened into a shaded, outdoor bar.

Berkshire Residence by Olson Kundig, Berkshires, Mass., United States
Kinetic façades by Shepard Steel and Turner Exhibits
Although the site of the Berkshire Residence occupies 300 sprawling acres of western Massachusetts, the house itself is long and slender, threaded carefully between a dense woodland and a vast meadow. Its narrow floor plates and extensively glazed façades ensure that each space enjoys ample daylight, natural ventilation and breathtaking vistas.
The views are enhanced further by 24-foot-wide operable window walls which slide away, leaving only a glass balustrade between occupants and the landscape. These immense windows can be manipulated effortlessly by a series of chains and hand wheels, as the architects explain: "To operate the windows, you pull the wheel away from the wall to engage a set of chains that controls one window. Then you pull the wheel a bit farther out to engage a second set of chains for the other window. It's like switching gears on a bicycle, and it serves as a deliberate moment of physical interaction with the house. Actually touching the building, making it work, connects the occupants to their environment in a solid, palpable way, resulting in a sense of shared existence."
Architects: Showcase your next project through Architizer and sign up for our inspirational newsletter.