Architects: Showcase your next project through Architizer and sign up for our inspirational newsletter.
The world is changing at a rapid pace, and with it comes a pressing need for architecture to follow suit. Minimizing energy consumption throughout the lifecycle of a building, from construction to demolition has never been more of a priority for an industry that impacts so significantly on the environment.
Yet, strategies for increasing the sustainability of buildings have been around for decades. 30 years ago, German researcher Dr Feist constructed a prototype for what would later become known as a Passivhaus or "Passive House", architecture that meets a new standard for energy efficiency and reduces a building's ecological footprint.
Despite its incredible reputation as the gold standard for sustainable building design, the Passivhaus standard is still not fully understood by many within the profession. At a time when climate change is forcing people across the AEC industry to rethink the way in which they build, awareness of this standard is more critical than ever.
Enter British architectural technologist and author Emma Walshaw of First in Architecture, whose book Understanding Passivhaus – A Simple Guide to Passivhaus Detailing and Design forms a comprehensive resource on the subject.
Walshaw's book goes far beyond the usual summaries of the Passivhaus approach, including in-depth technical guidance, CAD drawings and even 3D models of key details needed to create an exemplary Passivhaus structure. These drawing and models are downloadable in DWG and SKP formats for all architects and students that purchase the book, allowing them to study the details from every angle.
We present the following excerpts from Walshaw's book, which can be purchased here, providing a great overview of the principles and advantages of adopting a Passivhaus design approach.
What is a Passivhaus?
The Passivhaus standard, developed in Germany, by Wolfgang Feist, a physicist with a passion for low energy building research and design. Passivhaus is a low energy design standard, that achieves exceptionally comfortable buildings with minimal carbon emissions. After building and monitoring a successful pilot project in 1989, Dr Feist launched the Passivhaus Institute in Germany in 1996, to continue his research into low energy use in buildings and further develop the Passivhaus standard.
Some estimates suggest there are well over 50,000 Passivhaus buildings around the world. They have been successfully built in European climates, the US and Canada along with warm Asian climates where there is a requirement for cooling.
Some of the key characteristics of a Passivhaus include:
Excellent levels of thermal comfort
Very low energy demands
Provision of consistent fresh air throughout the building
High levels of insulation
Airtight design resulting in draught free construction
Low energy costs
Minimal/low thermal bridge levels
A Passivhaus has rigorous design standards and can be certified to prove the building has been designed to the assured Passivhaus criteria. Local weather data is used to ensure the building is in tune with its location.
The Passivhaus design methods can be adopted for new build designs, both residential and commercial, and on retrofit buildings of all types. There is in depth guidance associated with the different types of Passivhaus build and different certifications according to new build or retrofit status. A Passivhaus can be built using virtually any construction method, from concrete and masonry to timber frame.
The Passivhaus standard uses the precision of building physics to ensure reduced energy costs and demand, comfortable and healthy living conditions, with a high standard of energy efficiency that exceeds government regulations.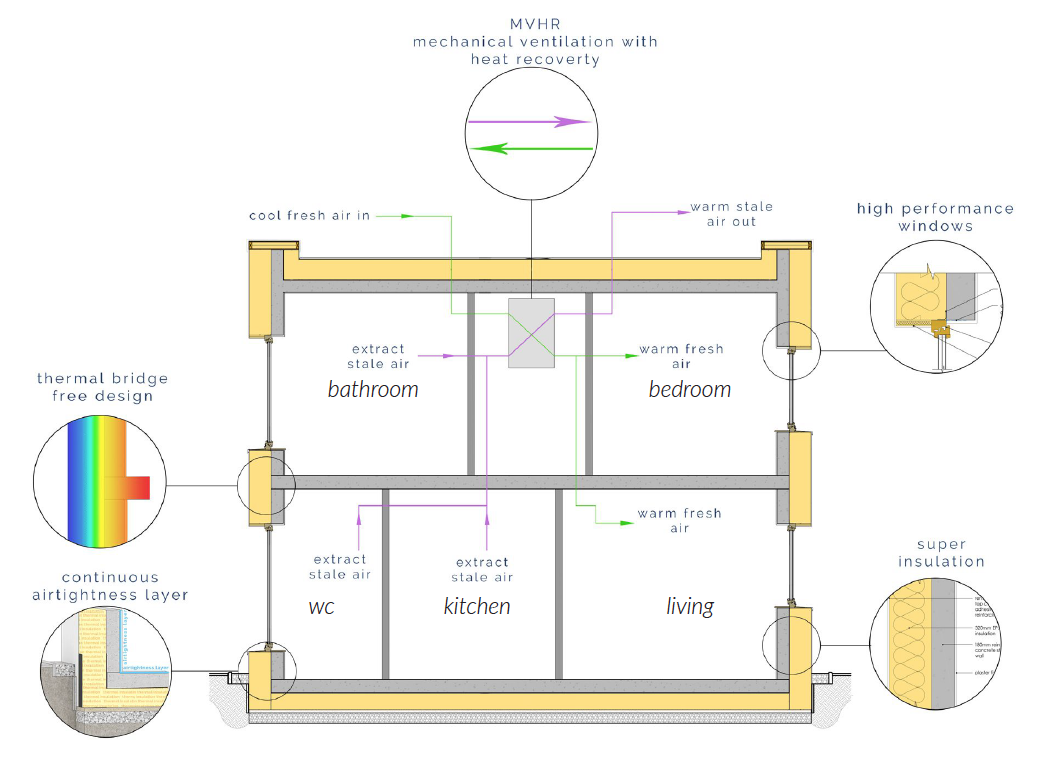 Basic Principles of Passivhaus
The Passivhaus standard sets out a selection of performance requirements that allow the designer to determine the most suitable solution to meet these requirements based on each individual project. The outcome is a building that achieves high levels of comfort and low energy demand, amongst many other benefits. A Passivhaus is built around five key principles:
Thermal Insulation
A Passivhaus has a continuous well insulated thermal envelope that keeps the building warm during the winter months and keeps the heat out during the summer months.
Airtightness
The Passivhaus has a continuous airtight barrier that protects the building from air leakage, heat losses and improves overall thermal comfort.
Ventilation Strategy
With an airtight construction, it is important that a Passivhaus is consistently supplied with fresh air. This is performed by the mechanical ventilation and heat recovery (MVHR) system that supplies fresh air to the rooms virtually at room temperature by recovering heat from the exhaust air. A night purge ventilation strategy is used to combat overheating during the hotter days of the British summer.
Passivhaus Windows
The windows in a Passivhaus are high performance triple glazed with insulated window frames. These high performing windows ensure a warm, draught free building in winter and allow the building to benefit from winter solar heat gains. A common misconception is that Passivhaus windows are not to be opened. This is a myth – during the summer months it is common to open windows to purge any heat build up. However, during the heating season, occupants often find they don't need to open windows as the MVHR system provides ample fresh air.
Thermal Bridge Free
A Passivhaus aims to be thermal bridge free, or minimise any occurrence of thermal bridges. This prevents potential building damage, lowers heat demand, and improves overall building performance.

Why Design A Passivhaus?
There are many benefits to a Passivhaus and a multitude of reasons why a client may choose to engage an architect in designing a Passivhaus. We will explore some of the benefits here.
A comfortable and healthy building
The Passivhaus creates an internal environment that is comfortable in both summer and winter. It will have no draughts, no cold surfaces or down-draughts at the windows and will have good indoor air quality. A warm and dry building in winter, with no condensation, full of fresh air. Passivhaus is likely to benefit asthma sufferers and those with respiratory conditions.
Low energy demands
The Passivhaus requires minimal heating and cooling, therefore reducing energy demands. All services installed in the building should be to the best energy efficiency standard available.
Environmental benefits
The Passivhaus reduces energy demand by up to 90% compared to normal buildings and is therefore minimising energy consumption and carbon emissions into the atmosphere. It can also incorporate other environmentally friendly features into the design.
Low running costs
A Passivhaus is relatively cheap to run due to the low demand on heating and cooling, and energy efficient appliances.
Increased value
A Passivhaus is a sound investment due to their good design, reduced running costs and high performance associated with the Passivhaus standard. A Passivhaus ensures an exceptional build quality and excellent thermal comfort, making the building a more desirable option.

Suits local climate
The Passivhaus method can be adapted to suit any climate around the world, the general approach is usually the same. In hotter climates, more attention is paid to passive cooling measures, such as shading and window ventilation to ensure comfort during the warmer months.
Investing for the future
The Passivhaus concept demands high standards, which are responding well to the changing climates around the world. By designing and building a Passivhaus we are preparing for the future climate changes and updates to the regulations.
Safeguarding energy price increases
As energy prices can fluctuate and ultimately increase, the reduced energy demands of a Passivhaus allow us to minimise running costs, despite any changes to energy prices. Even large fuel price increases would have far less impact on a Passivhaus building compared to a standard build.
---
While some believe a Passivhaus must be a boring box, this is simply not the case. It is perfectly possible to design beautiful buildings that serve their desired purpose, while being sustainable, comfortable and energy efficient.
To purchase First in Architecture's complete Passivhaus bundle, click here.

Top image: Shangri La by Mole Architects; photo by Matt Smith
Architects: Showcase your next project through Architizer and sign up for our inspirational newsletter.